BISS Ch* Pond Hollow Casablanca WD
June 1992-November 2000
(Ch* Riverbends Norga Wild Rice II X Ch Pond Hollow Puddle Duck CD)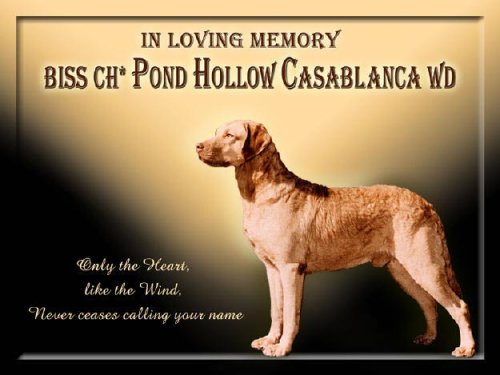 Once in a lifetime if you are lucky you have a dog that is part of you. Bogey was that dog for me. While his show and siring accomplishments are profound, the best thing about him was his personality. He was smart-he could understand sentences. He was the greatest companion we ever had. He always tried to please-he preferred to do things right than wrong. A natural retriever, he delivered to hand without force breaking. He was highly birdy and a superb marker. He had no hunt titles due to the fact that my interests turned elsewhere-he didn't need to prove anything to me anyway. Those who saw him work know how good he was.
He was a pre-potent sire-stamping his look not only on his offspring but even on grandchildren and great grandchildren. He reproduced his wonderful disposition too. Most of his children lived long lives-12 to 15 yrs.
He and his son Rocky (Ch Pond Hollow Morocco) traveled all over the US with us. They hiked the Golden Gate bridge with us in 1996. Bogey never spent a day in his life without either Bill or I. When he died at 8.5 of a rare form of liver cancer (viral in origin), I mourned him for years. I still cannot talk about him or look at photos without tears in my eyes. We miss him every day and are grateful for every minute of time we had together.
Dyane & Bill
DYANE BALDWIN 4308 MANNSVILLE RD, NEWPORT PA 17074 717.582.4997 PONDHOLO@PA.NET