Ch Pond Hollow N TLC'S Glacier Bay NA NAJ MH **
OFA 6709G; CERF 06-100*; PRA A1; EIC 70-N

6/30/1998-7/18/2011
Pictures: (click to view)
Show Photo 1

Show Photo 2

Head Shot

At Agility

With Kathy Heintel
About "Glacier":
GLACIER is one of a select group of Ch/MH in the breed. With occasional breaks for shows, Glacier completed her field titles in three years. She also ran in all breed licensed trials and earned three qualifying all-breed JAMS (in 10 trials run!). She was a dependable marker, easy to handle and loved birds upland or waterfowl. She was owned by myself (Dyane) and Kathy Heintel but lived most of her life with Kathy.
She was a good sized girl- 24", 85 lbs., well boned with a good shoulder layback. Her head was broad but still feminine. Glacier Bay was a very loving, serious worker. Glacier had four litters with finished Champions, agility titled and hunt titled offspring. She was very easy to work with and she loved to please whom ever she was with. Glacier Bay enjoyed the show ring and the hunt fields but best of all cuddling up next to you and making you smile. She's alway carried a toy in her mouth just in case you want to play. Glacier was Kathy's favorite hunting companion.
She had a number of Ch and hunt test titled offspring including 2 Ch/MH daughters. She also had MANY wonderful companion and gun dog pups too. Despite her tenacity in her field work, she was a gentle very affectionate dog to live with. She really exemplified the type of all-around Chesapeake that we have been breeding for over 35 years. Glacier has 6 champion titled kids and 5 JH & 4 SH & 2 MH hunt titled offspring. Glacier Bay passed away on July 18, 2011 just 18 days past her 13th birthday.
Her Offspring:
Ch Pond Hollow Beaufort's Sea
Ch TLC's Bacchus of Tyler Lake JH
Ch Treasures Falcon Del Star NA NAJ SH
Ch Pond Hollow Sequel
Ch Treasure Lakes Ray's Red Hawk SH
Ch Sanderson's Lil Miss Amazin SH
Treasure Lake Jessie Buckeye JH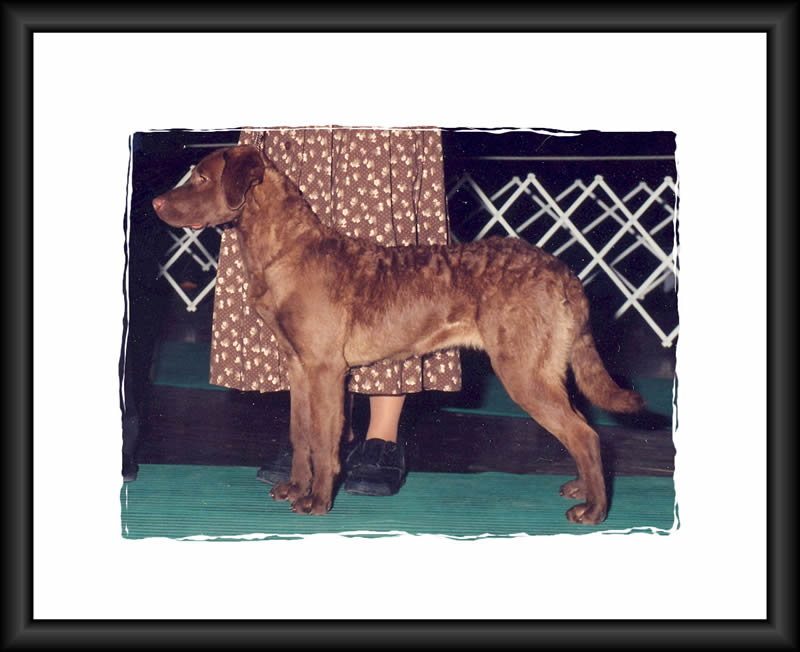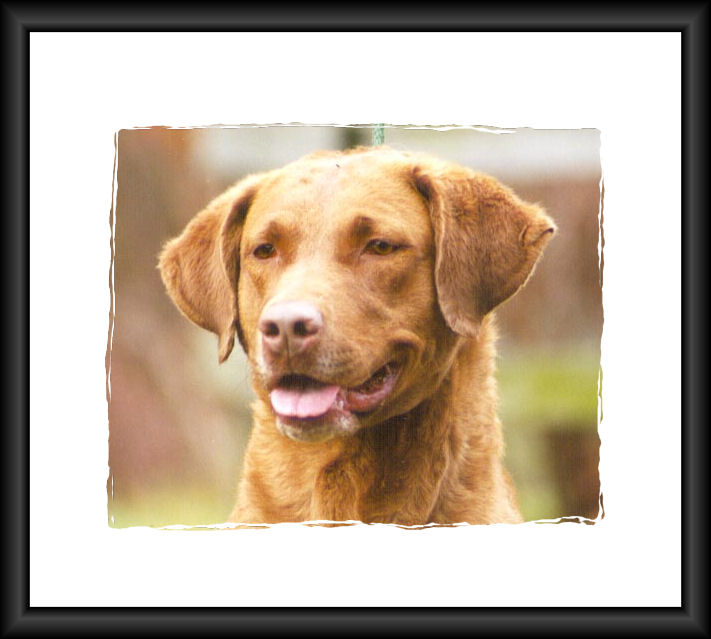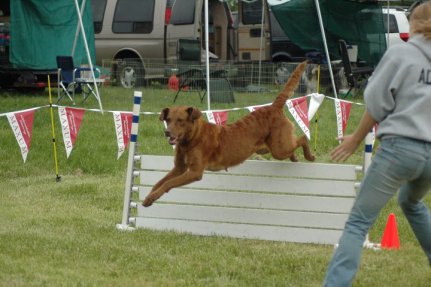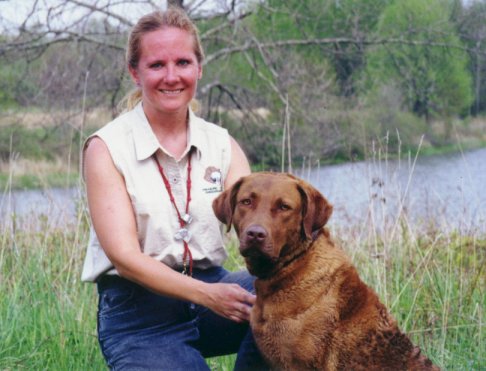 DYANE BALDWIN 4308 MANNSVILLE RD, NEWPORT PA 17074 717.582.4997 PONDHOLO@PA.NET