Ch Pond Hollow Artic Ice Blink MH
OFA 8814E; CERF 5531/11-80*;
PRA DNA Normal by pedigree; EIC35-N
Cardiac CA131-Normal

DOB 12/19/2004
Pictures: (click to view)
Head in Profile

Body in Profile
About "Blink":
BLINK s 23" 65 lbs. and a lovely deadgrass color. She is co-owned with Kathy Heintel of Treasure Lake Chesapeakes who does all her field training. Blink earned her JH title at 10 mos. of age and in 2008 added her SH title. She also has four Hopefully 2010 will see her earn that last leg for the MH title. She completed her title in the conformation ring with her usual style & flair. She is a well coated girl that is nicely angled and whose tail is always wagging. Blink is a friendly happy girl who has a zest for life and a curiosity for new things. Her ½ brothers have earned hunt test titles as well (Pond Hollow Reed Walker MH & Pond Hollow Bittersweet Zack SH with 4 legs on MH too).
Blink's dam is heavy coated, happy go lucky personality daughter of the #2 sire all-time. She produced 3 hunt titled offspring-Blink, Reed & Zack-from 3 different sires. Blink's dad is a son of the #4 sire all-time.
Blink's daughter Pond Hollow Congaree earned both her JH & SH titles in 4 straight completions and will run Master level this year and also see the conformation ring
Blink may be bred one last time this coming Fall.
Her Offspring:
Ch Treasure Lake Steve's Night Owl JH
Pond Hollow Congaree SH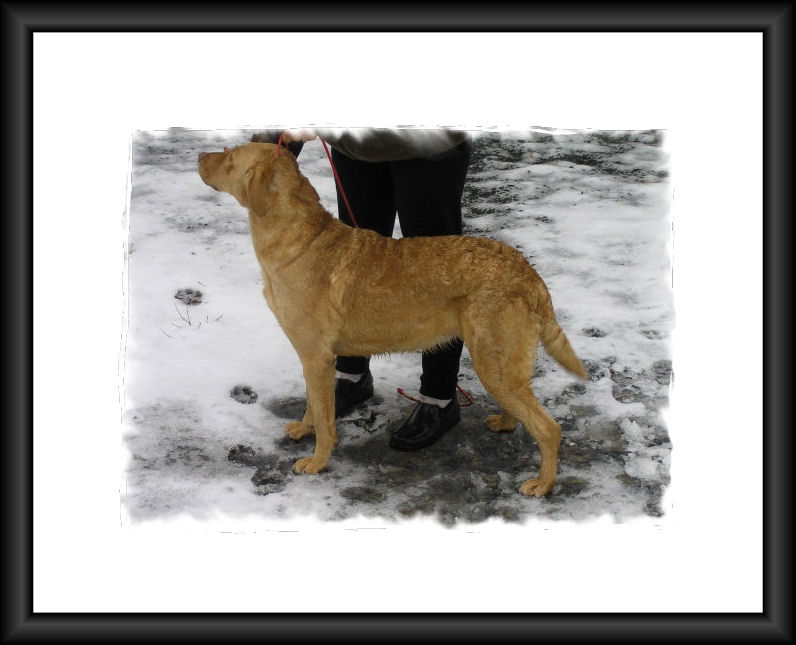 DYANE BALDWIN 4308 MANNSVILLE RD, NEWPORT PA 17074 717.582.4997 PONDHOLO@PA.NET