Ch Pond Hollow Sea of Cortez
OFA 9988G EL 1985; EYES 306/14-47; Cardiac CA123/Normal
DM813-N; PRA & EIC Normal by pedigree
21" 60 lbs.
DOB 4/15/2010
Pictures: (click to view)
Show Photo 1

Show Photo 2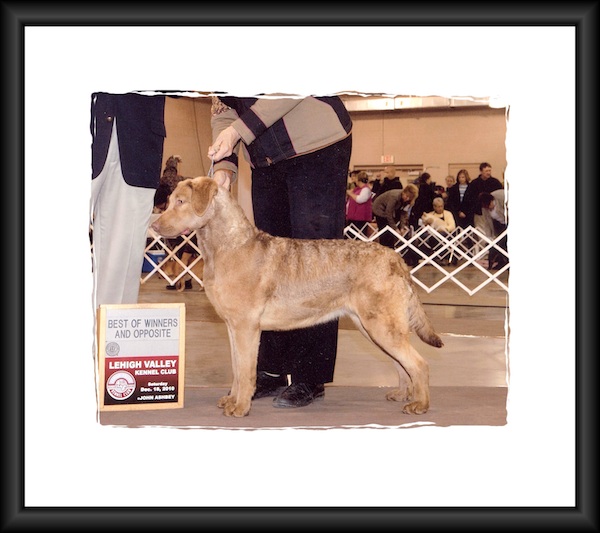 About "Corky":
un, fun, fun is CORKY's motto. She has a zest for everything-running, showing, loving, and retrieving. Her nickname should be "fish"-she loves the water ! In Maine at 5 mos. of age, she was the first off the dock into the lake. She has a thick oily double coat & correct balanced conformation with good bone. Her head is pleasing (she seems to be always smiling). In short, she has the whole package ! She finished with 3 majors including a BOD over specials and a Specialty Best in Sweeps/Reserve Winners.
Her pups have her same wonderful personality coupled with drive and a willing nature. Her daughter Pond Hollow Vibrant was Best Puppy at the Swedish Chesapeake Club show and she made her WDQ at 9 mos. of age in the UK !
Corky is making her new home in Mississippi with the Carson Culver who has had a number of our retirees over the years.
Her Offspring:
Pond Hollow Tapler's Bar JH
Pond Hollow Simply Cooper (major ptd)
Austria/Intn Ch Pond Hollow Vibrant WDQ
DYANE BALDWIN 4308 MANNSVILLE RD, NEWPORT PA 17074 717.582.4997 PONDHOLO@PA.NET