Ch Del Brave A Knight's Tale SH WD
OFA 9931G; EL1938-Normal; Eyes 263/14-44; Cardiac 207-Normal;
DM/EIC-CBP; PRA Carrier; ED/SF-Normal
Size: 24 1/4"; Weight 95 lbs. Color: Brown
Pictures: (click to view)
Body in Profile

Head Shot

Show Shot

With Kevin

At Play
About "Joust":
JOUST has a broad head, stocky conformation with excellent angulation. Good coat & ground covering side gait. He finished his Ch title with 4 majors including his final win at the ACC Supported entry Golden Gate KC (CA) in January 2014 . All majors were earned quickly from November 2013 immediately following earning his SH title. Shown by his co-owner George.
Joust naturally delivers to hand and is very birdy. Trained/handled by co-owner Kevin to his JH, Joust advanced hunt test work has been directed by Kathy Heintel (OH). He earned his SH in October 2013 and is currently running MH level.
He is a sweetheart of dog in personality. He enjoys kicking up turkey and pheasants on walks with his owner Kevin in PA. Joust has traveled from coast to coast, lived in homes and kennels. His adaptability to new situations and trainers is nothing short of amazing.
Joust is a product of a special frozen semen breeding that we did to bring forward the high trainability of his sire. Brave has produced multiple offspring earning success in field trials, hunt tests and conformation. Legend, Joust's dam, has titled offspring from her earlier litters in shows and hunt tests. His litter sister has legs on her SH title. His half-brothers HRCH Pond Hollow Legos Point MH and Ch Pond Hollow Going Great Gun SH are very competitive hunt test dogs.
Joust's pups from his first litters have earned Ch title, running in hunt tests in Canada & U.S. and excellent gun dogs.
Contact: Kevin Shaffer Milton, Pa. 570-742-3755 Or, George Makatura, Del Brave Chesapeakes for stud service information.
Joust's Offspring
Pictures: (click to view)
Pup 1

Pup 2

Pup 3

Pup 4

Pup 5

Pup 6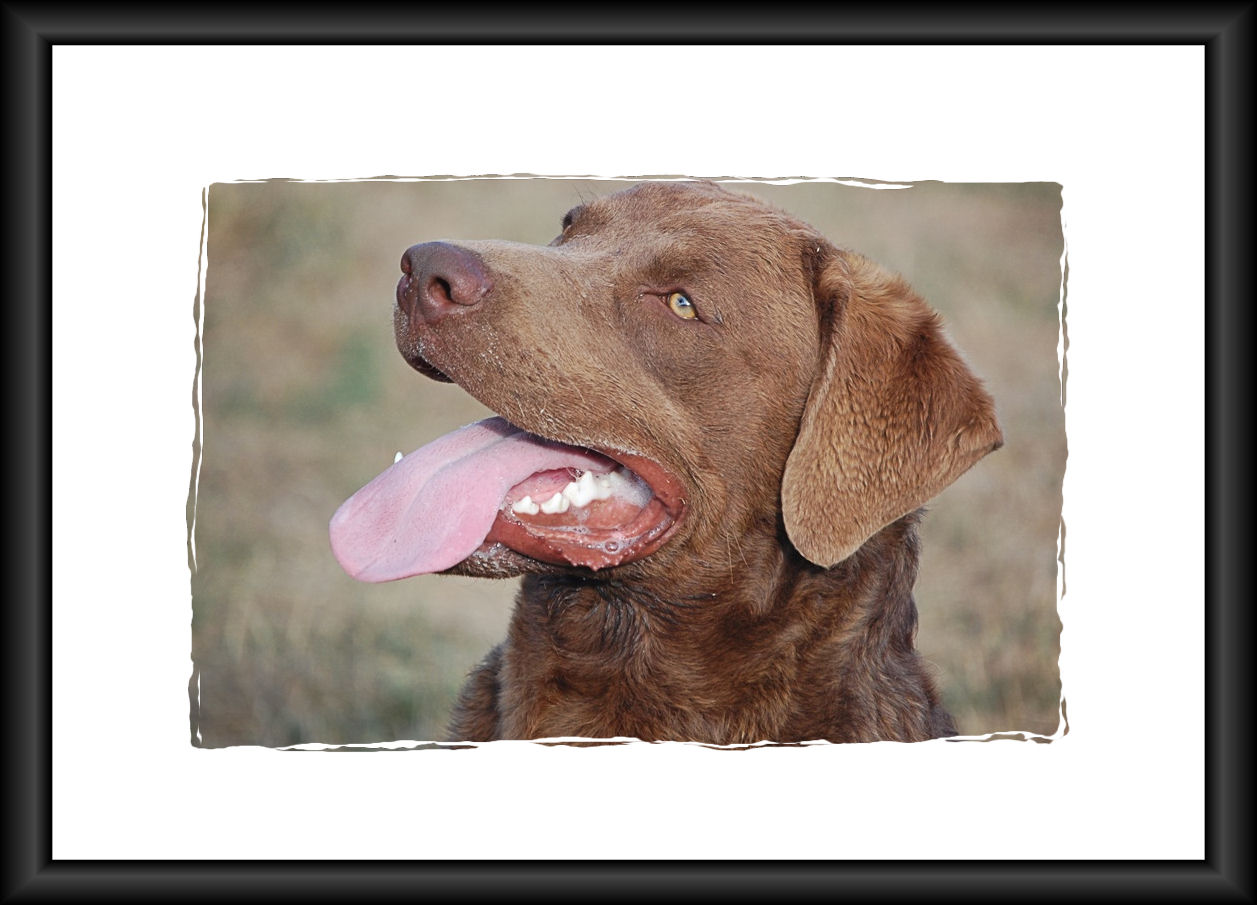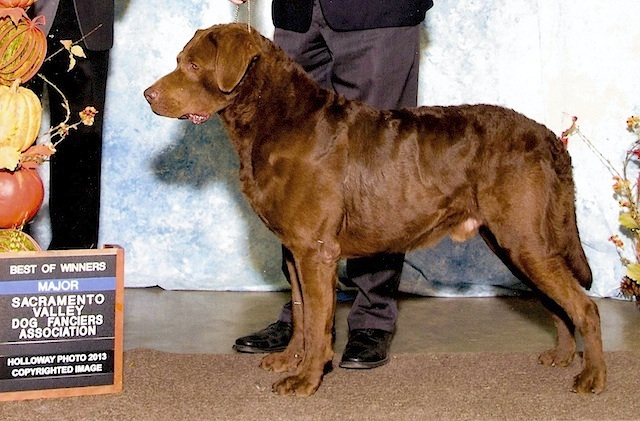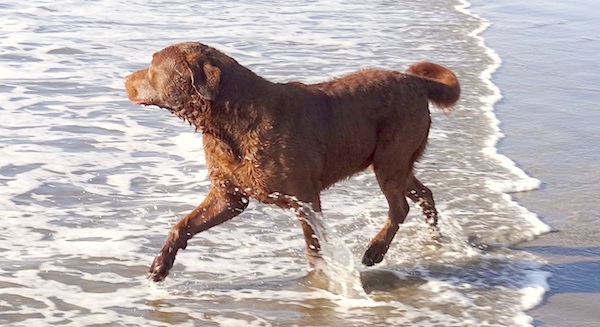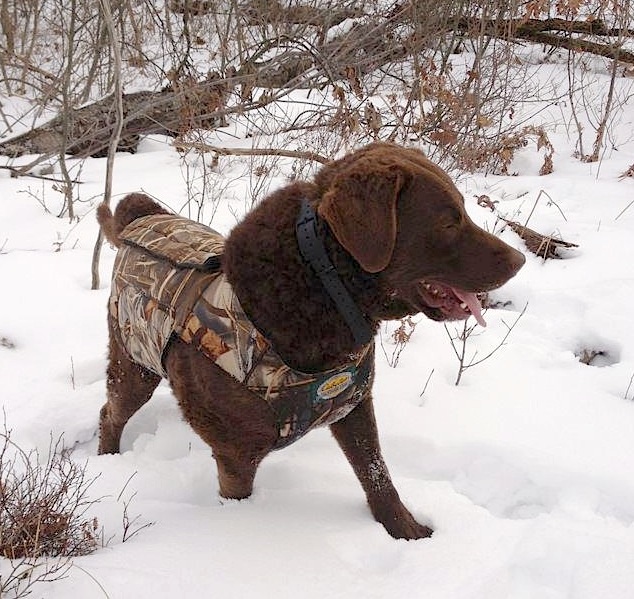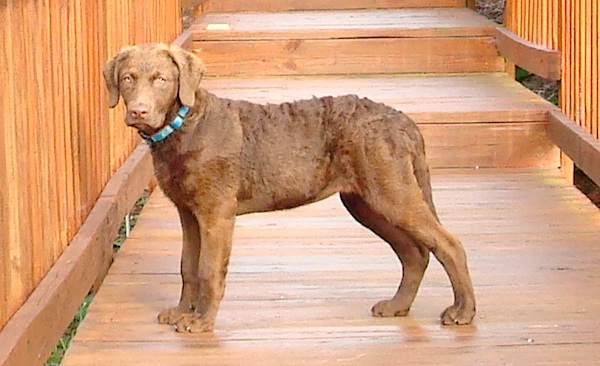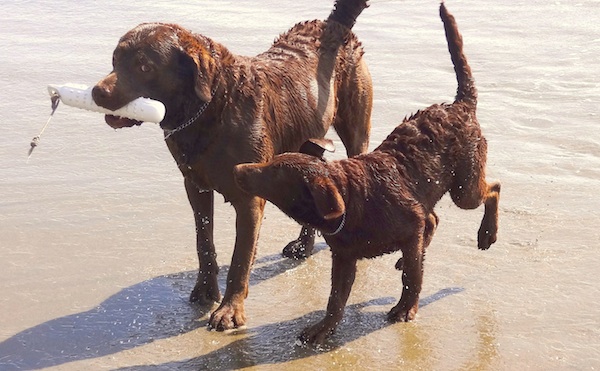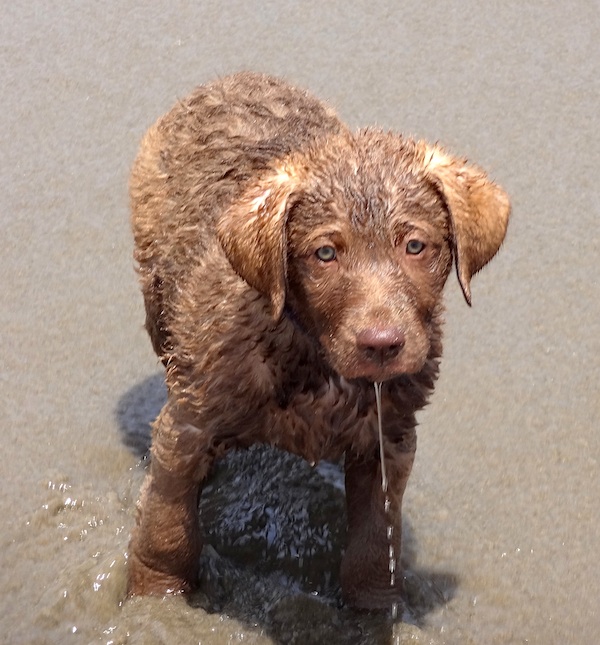 DYANE BALDWIN 4308 MANNSVILLE RD, NEWPORT PA 17074 717.582.4997 PONDHOLO@PA.NET