Ch Pond Hollow Bering Sea
OFA 6659GM24-PI; EL742M61PI; CERF 09/121;
PRA DNA "A1"; cardiac CA71/120; EIC 27/105- Normal
Size: 25"; Weight: 92lbs.; Color: Brown
Frozen Semen Only
Pictures: (click to view)
Body Profile

Retrieving

1st Stud Class

Group Placement
About "Bery":
BERY was a multiple Sporting group winning & placing dog with 30 placements (5 Group Firsts)-all owner handled. He easily completed his championship with 17 pts. and 4 majors in a total of 7 shows- 2 of which were at 6 mos. of age. He was WD at the 2000 ACC National Specialty; WD 2000 NCCBRC Specialty; WD at 2 ACC Supported shows- Lexington & Philadelphia 1999. He has won BOB at 5 ACC Supported shows and finished in the Top Ten Chesapeake ratings in 2001 & 2002 & 2003 & 2004. #1 Stud dog of show titled offspring in 2003, 2004 & 2005. As of July 2007, he is now #4 sire ALL TIME in Chesapeake breed history and the #1 Sire in Great Britain in 2007 & 2010 !
Conformation wise, he had outstanding structure- excellent shoulders, proper short back & topline and well bent stifles. His movement was excellent- reach & power rear drive. His coat is very thick and well waved. If I were to criticize him, it would be that his head could have been shorter in length and tighter in lip.
His temperament was unbelievable- he loved everything and everyone. He was great with children and other dogs. He loved to retrieve- is a natural retriever as he delivers to hand and holds without being forced fetched. He has a very resilient attitude toward discipline. Unlike many CBRS, he did not sulk or carry a grudge when corrected. He produces good front & rear angulation, coat and bone.
As a sire, he has produced the 39 champion offspring. Among them are a Ch/MH (Master Hunter); Ch/MACH (Master Agility Champion) CD JH; and a BIS Ch. Seven of his sons have sporting group placements including Firsts. Two of offspring have been #1 CBR of the year in conformation-a daughter in 2005 & a son in 2007.
One son was was #1 CBR in 2007 in breed pts. His offspring have won awards in England, Wales, Sweden, Holland, Czech Republic and Norway. 12 have earned JH titles in Hunt Tests; 2 have a SH level title and 2 sons with a MH title. Another daughter has her MACH title. Of 48 offspring have been x-rayed for hips & rated by OFA- 44 passed (9 Excellent;30 Good; 7 Fair), with three more that did not pass.
His offspring are typically much like their sire in temperament-outgoing with a great work ethic.
His pedigree offers a linebred (Ch Pond Hollow Ketch/Ch Chester Brown IV CD) outcross for bitches since he carries no Tug, Come Back Hank or Casablanca in his background.
Stud Services available at Private Treaty ONLY.
Judges Award of Merit from the Veteran Class
2008 & 2009 National Specialty Shows !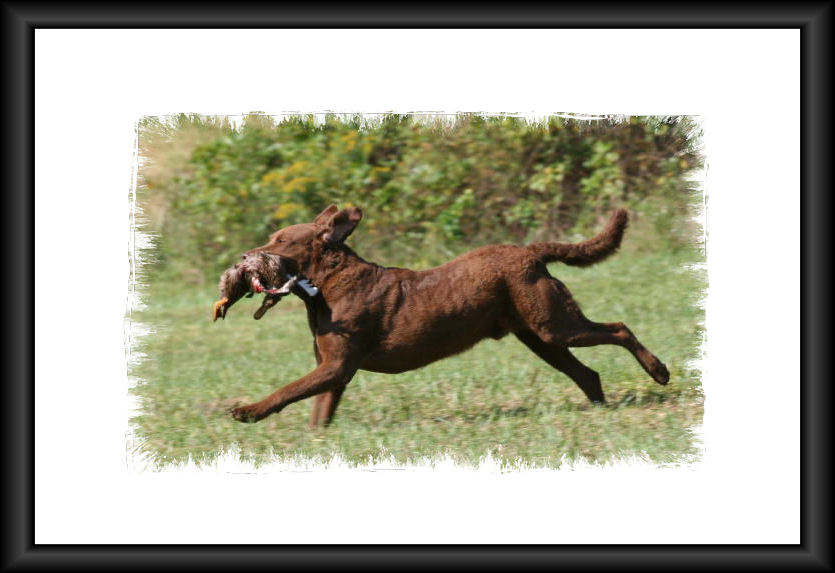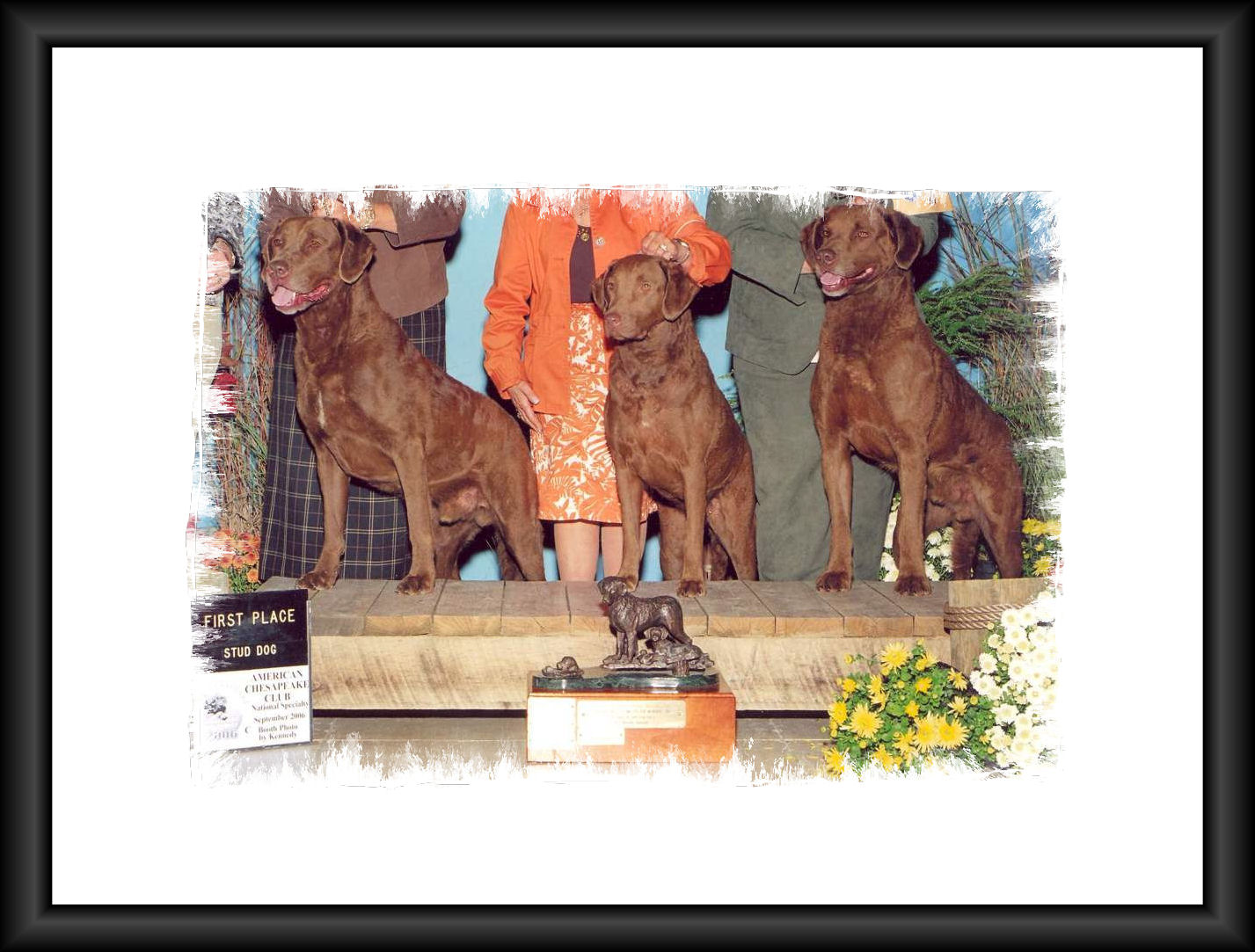 DYANE BALDWIN 4308 MANNSVILLE RD, NEWPORT PA 17074 717.582.4997 PONDHOLO@PA.NET